VTX
From wikipost
Jump to navigation
Jump to search
In 2017 I bought the Eachine TX801 5.8G 72CH 0.01mW 5mW 25mW 50mW 100mW 200mW 400mW 600mW Switched AV VTX FPV Transmitter for about $27 on Banggood.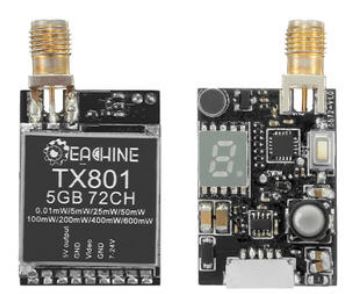 Description:
Brand Name : Eachine
Item Name : TX801 Transmitter
Antenna Gain: 3Dbi
Antenna Conenctor : RP-SMA
Frequency: 5325-5945MHZ
Channel : 72CH
Transmitting Power: 0.01MW/5MW/25MW/50MW/100MW/200MW/400MW/600MW Switchable
Video Format: NTSC/PAL
Working Current: (MAX)7V-550mA; 12V-300mA; 24V-160mA
Audio Bandwidth : 6.5MHZ
Video Bandwidth: 18MHZ
Audio Carrier : 1Vp-p(1KHZ)
AF Input Impedance : 10KΩ
Working Voltage : 7-24V
Output Voltage : 5V
Weight :7.3g
Size :28*20*8MM

Cable : JST-GH 1.25mm 5P to TJC8 2.54mm 3P
Blue : GND
Yellow : Video
Red : Output Voltage

Features :
8 power levels switchable: 0.01MW/5MW/25MW/50MW/100MW/200MW/400MW/600MW
72 channels, cover all 5.8G frequency.
With Microphone, support audio transmission
5V output, max working current 550mA
Multi-channel synchronization does not interfere with each other
7-segment display
The 7-segment display cycles between three values.
Channel (1 - 8) [solid]
Band (A, b, E, F, r, U, o, L, H) [solid]
Power (1 - 8) [blinking]

The power levels are:
1 10uW (pit mode)
2 5mW
3 25mW (max power for racing)
4 50mW
5 100mW
6 200mW
7 400mW
8 600mW
https://www.banggood.com/Eachine-TX801-5_8G-72CH-0_01MW5MW25MW50MW100MW200MW400MW600MW-Switched-AV-VTX-FPV-Transmitter-p-1147691.html?cur_warehouse=USA